Opening hours & Prices
Everything you need to know before your visit to Elements Spa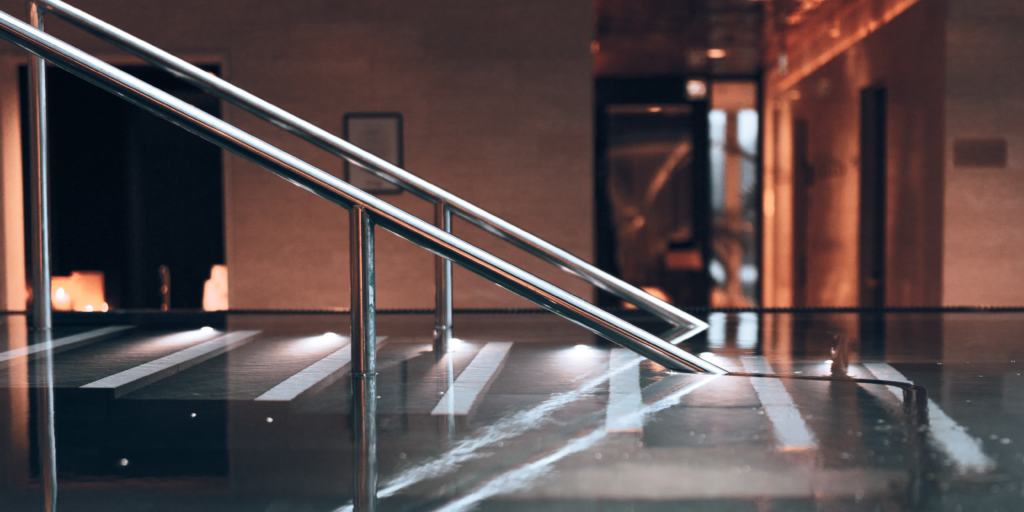 Opening Hours
Monday – Tuesday: Closed
Wednesday – Friday: 11.00 – 20.00
Saturday – Sunday: 08.30 – 20.00
Fall Break Hours w.44
Monday – Friday: 11.30 – 20.00
Children opening hours: 11.30 – 14.00

Saturday – Sunday: 08.30 – 20.00
Children opening hours: 08.30 – 14.00
Opening Hours for Children
(4-15 y/o)
Saturday – Sunday: 08.30 – 11.00
Prices (external guest)
Wednesday – Thursday: SEK 345
Friday – Sunday: SEK 545
Children (4 – 15 years): SEK 195
Prices (hotel guest)
Wednesday – Thursday: SEK 245
Friday – Sunday: SEK 345
Children (4 – 15 years): SEK 145
Booking & Questions
Book treatments and spa entrance using our online system. If you have any other questions, please e-mail reservation.elementsspa@strawberry.se
or call +46 8 462 10 41 (10 am–4 pm)
About your visit
Day entrance includes access to our indoor/outdoor swimming pool, dry and steam saunas, terrace, tea, gym. Use of bathrobes, towels, and slippers. You are welcome to visit our fully equipped gym. Your slot time is always 2.5 hours.
---
---
General information
---
If you prefer a quieter spa experience, we recommend that you visit us on a weekday. The closer we get to the weekend, the number of guests increases and larger group bookings occur.
We serve alcohol, which can also contribute to the noise level increasing.
---
Elements Spa does not accept cash. This helps ensure a safer workplace for our staff and is also safer for you as a guest.
Card is king!
---
A spa visit lasts 2.5 hours. Please be changed and ready to leave the spa once your time is up.
---
Our spa bar serves hot and cold dishes, as well as refreshing and alcoholic drinks.
---
Our treatment prices differ depending on whether you book during a weekday or weekend. Your e-mail confirmation will confirm the price of your treatment.
---
Entrance to the spa is included whenever you book a treatment lasting at least 50 minutes.
---
The pool closes 15 minutes before the spa does, to give you time to shower and change.
---
Your spa entrance gives you access to the indoor/outdoor pool, the steam and dry saunas, and use of a bathrobe, towel, and slippers. We offer complimentary tea and fruit. You need to bring your own swimwear and a padlock for your locker so that you can keep your clothes and valuables safe (you can also buy padlocks at the spa).
The pool is 10 meters long and 1.2 m deep.
---
---
Treatments
Below is some information that you might find useful ahead of your treatment
Frequently asked questions
---
We politely ask that you shower before your treatment and that you make sure that you are dry before you put on the disposable clothing that we provide.
---
If you are unable to attend your appointment, you must cancel or reschedule with at least 24 hours notice. Cancel by sending an e-mail to reservation.elementsspa@clarion
Failure to cancel will result in the full cost of the treatment being charged.
---
If you are pregnant, please let us know when you book (we will not perform any treatments prior to week 13). The same applies if you are injured or if there is anything else we should know ahead of your treatment.
---
Please check in at reception about 10 minutes before your treatment so that we know you have arrived.
---
If you suffer from any allergies or illnesses, it is important that you notify us in advance so that we can offer you suitable alternatives.
---
FAQ
Below are some general questions and answers.
Frequently asked questions
---
How many people can be in any given zone at the same time.
40
---
Does the spa have special children's hours?
Yes. Saturday and Sunday mornings 8.30 am–11 am and certain school holidays and public holidays.
---
What facilities does the spa offer?
An indoor/outdoor pool (32-35 degrees Celsius all year round), a steam sauna, a dry sauna, a relaxation lounge, access to the hotel gym, food, and drinks.
What do I need to bring?
Your own padlock and swimwear.
What does my spa slot/zone mean?
Your slot is the time during which you have access to the spa and changing rooms. Please note that you need to be dressed and ready to leave by the time your slot is finished.
Do I need to shower before using the pool?
Yes, showering is mandatory before using the spa facilities.
---
I forgot to bring my swimsuit. Do you have swimwear available to borrow?
We only offer swimwear for sale.
---
What is available in the changing rooms?
Shampoo, conditioner, shower gel, skin lotion, hair dryer, cotton and q-tips.
How long do I have access to the facilities?
Our time slots are 2.5 hours long.
Can I pay using cash?
No, unfortunately not. We are a cashless hotel and spa.
Where do I find you?
You will find us on level 2 of Clarion Hotel Stockholm, at Ringvägen 98. Take the number 4 buss to Skanstull, or the green metro line, leaving via the Skanstull exit.
---
Can hotel guests use the changing rooms?
All hotel guests who still have access to their rooms should change in their rooms. When you come down to the spa to check in and pay you will receive your spa kit containing a bathrobe and slippers. You will also be given a towel at the spa reception.
I am pregnant, am I still able to book a treatment?
You are welcome to book treatments as of week 13 of your pregnancy.
Can I request a female/male therapist?
We will do our best to accommodate your wishes, but it is not always possible.
Does the hotel have parking?
As the hotel does not have its own parking facilities, we usually recommend Aimo Skanstull
Do you offer walk-in appointments?
Yes, subject to availability.
Do I need to book to visit the spa?
Yes, you need to pre-book your spa entrance/treatment to guarantee your space.